Ukraine updates: Kyiv asks for cruise missiles from Germany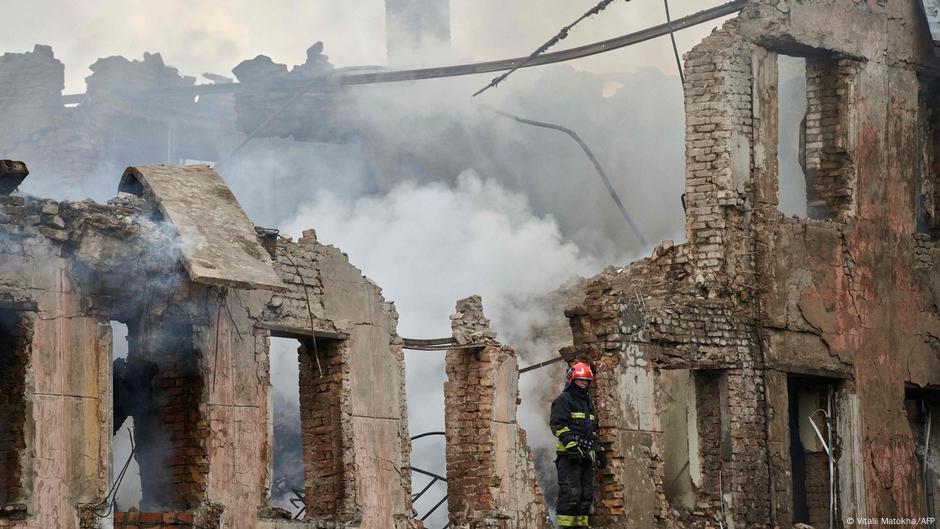 Ukraine has requested that Germany provide it with Taurus cruise missiles, a German Defense Ministry spokeswoman said.
"We have received a request from the Ukrainian side in recent days," the ministry spokeswoman told the Agence France-Presse (AFP) news agency on Saturday.
The missiles requested have a range of over 500 kilometers (310 miles), which would make it possible for Ukraine to strike Russian territory.
Kyiv's allies have so far been cautious about providing arms to Ukraine that could reach Russia.
On Friday, German Chancellor Olaf Scholz reiterated that weapons supplied by Germany to Ukraine are not to be used to strike Russian soil.
"Russia attacked Ukraine, and that's why Ukraine can defend itself," Scholz said while visiting the Estonian capital Tallinn. "And at the same time it is clear that the weapons we supplied will only be used on Ukrainian territory," he stressed.
Here are some of the other developments concerning Russia's war in Ukraine on Saturday, May 27:
Hundreds of German civil servants to leave Russia
Hundreds of German civil servants have been requested by Moscow to leave Russia, according to media reports.
The request has been made to civil servants working in education and in the cultural sector, Germany's Foreign Ministry said.
It follows a decision by Russian authorities to force Germany to reduce its diplomatic staff and presence at public institutions, such as the Goethe Institute or the German school in Moscow, at the beginning of June.
Drone attack damages oil pipeline in Russia — regional governor
An attack by two drones has caused an explosion in the northwestern Russian region of Pskov, said Mikhail Vedernikov, the regional governor.
The incident occurred near the village of Litvinovo, less than 10 kilometers (6.2 miles) from the country's border with Belarus.
"Provisionally, the building was damaged as a result of an attack by two unmanned aerial vehicles," Vedernikov said
The governor said that there were no casualties resulting from the apparent attack, which he blamed on Kyiv.
Russia dismisses nuclear deployment criticism from US
Russia's embassy in the United States has issued a statement rejecting Washington's criticism of the deployment of tactical nuclear weapons in Belarus.
"It is the sovereign right of Russia and Belarus to ensure their security by means we deem necessary amidst of a large-scale hybrid war unleashed by Washington against us," the embassy declared in a statement.
"The measures we undertake are fully consistent with our international legal obligations," it said.
The embassy accused the US of hypocrisy, arguing that Washington had deployed nuclear weapons in Europe.
"The United States has been for decades maintaining a large arsenal of its nuclear weapons in Europe," the embassy said. "Together with its NATO allies it participates in nuclear sharing arrangements and trains for scenarios of nuclear weapons use against our country."
The United States has deployed nuclear weapons in Western Europe since 1954, with the first weapons being stationed in the United Kingdom.
The Federation of American Scientists says that the US has 100 B61 tactical nuclear weapons in Italy, Germany, Turkey, Belgium and the Netherlands.
Tehran accuses Kyiv of 'anti-Iranian propaganda' over drone accusations
Iran's Foreign Ministry has accused Ukrainian President Volodymyr Zelenskyy of anti-Iranian propaganda over claims that Tehran has supplied Russia with drones.
"The Ukrainian president's repeat of delusional claims against the Islamic Republic of Iran is in line with the anti-Iranian propaganda and media war aimed at attracting as many arms and financial aid as possible from Western countries," Iranian foreign ministry spokesman Nasser Kanaani said in a statement.
Kanaani claimed that Kyiv is refusing to allow an independent investigation into the claims.
Iran initially denied supplying Russia with Shahed drones, but later said it provided a small number before the start of the invasion on February 24, 2022.
"Your Shaheds, which terrorise Ukraine every night, mean only that the people of Iran are being driven deeper and deeper into the dark side of history," Zelenskyy said on Wednesday.
Wagner likely withdrawing from area around Bakhmut — UK intelligence
The British Defense Ministry has said that Wagner mercenaries "have likely started to withdraw from some of their positions around the Donetsk city of Bakhmut" in an intelligence update.
"On 25 May 2023, Wagner owner Yevgeny Prigozhin said the withdrawal of his forces from Bakhmut had begun and that transfer of positions to the Russian Ministry of Defence (MOD) would continue to 01 June 2023," it said.
It said that pro-Russian separatist forces had begun entering the city for clearance operations starting on Wednesday.
The ministry said that Wagner forces "will likely be used to further offensive operations in the Donbas" despite founder Yevgeniy Prigozhin's feud with the Russian Defense Ministry.
sdi/fb (Reuters, AFP, dpa, AP)