Ukraine updates: German protection minister visits Kyiv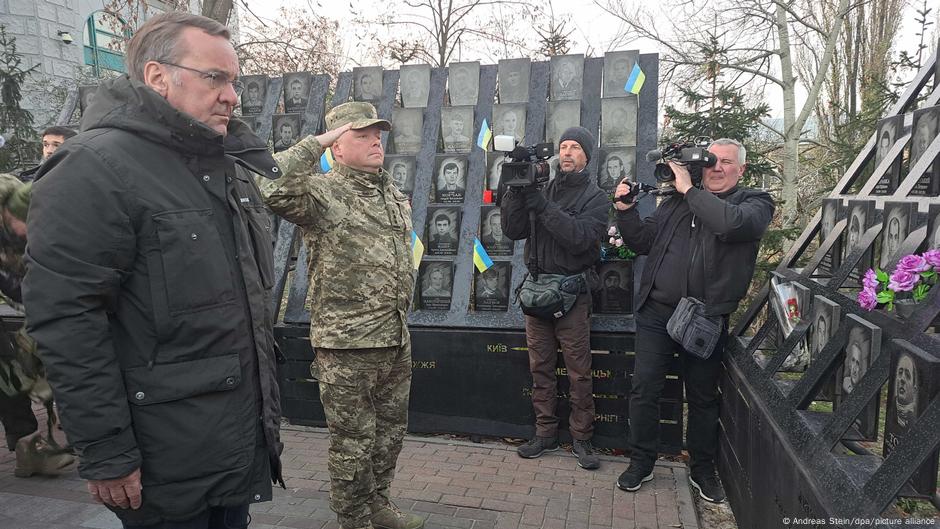 President Volodymyr Zelenskyy addressed Ukrainians on the "Day of Dignity and Freedom," which commemorates two pro-democracy protest actions: the "Orange Revolution" of 2004 and the so-called "Revolution of Dignity."
The latter was sparked by protests on November 21, 2013 centered on Kyiv's Maidan sq. towards the previous pro-Russian President Viktor Yanukovych scrapping an settlement to deliver Ukraine nearer to the EU.
"Ten years ago, we started a new page in the struggle. 10 years ago, Ukrainians launched their first counteroffensive. Against lawlessness, against the attempt to deprive us of our European future. Against our subjugation," he stated an announcement.
Standing in entrance of the flags of Ukraine and the European Union, Zelenskyy stated that the nation's candidate standing and additional accession negotiations ought to actually result in Ukraine's full membership within the EU.
Zelenskyy stated that by profitable the Revolution of Dignitiy, Ukrainians achieved "the primary victory in as we speak's battle."
The Ukrainian president linked the Maidan protests to Russia's ongoing full-scale invasion of Ukraine, saying that "the defense of democratic values turns into the defense of sovereignty and territorial integrity."
Zelenskyy known as on Ukrainians to unite and on the world to indicate help and solidarity with Ukraine. "When the civilized world begins to seek compromises with terrorists and make concessions to tyrants. Then we all definitely lose," he stated.