Russia will continue to be plagued by apathy until Putin departs.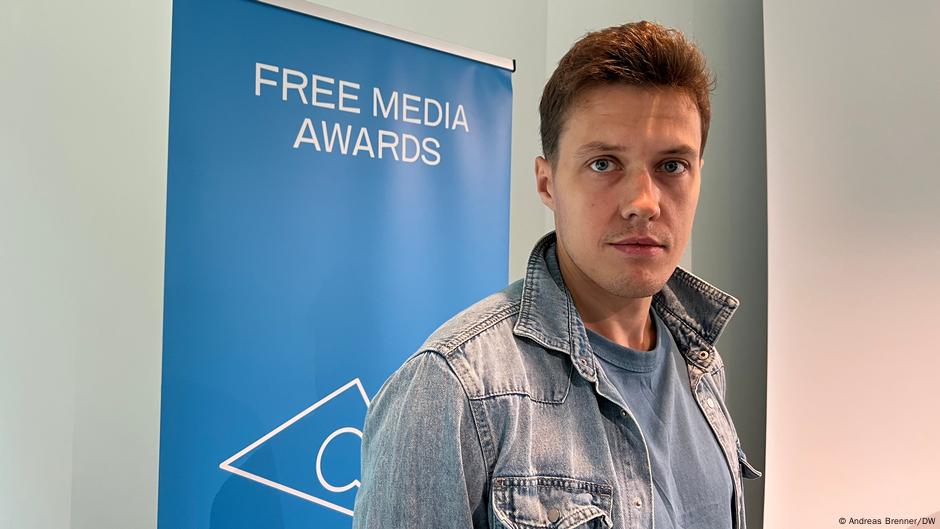 Investigative reporter Roman Anin warns that if you constantly show apathy, there may come a time when someone will come to your doorstep, forcefully take your husband away, and within three days, send him to [Ukraine] where he will face death. Anin emphasizes that this is the consequence of being indifferent towards one's own destiny and the future of the nation.
The Moldova-born Russian is one of this year's recipients of the Free Media Award from Germany's Zeit Foundation. And this is only the latest in the string of accolades and awards for the 36-year-old, who is a member of multiple international investigative networks, including the team behind the Panama Papers investigation.
In Russia, Anin's Important Stories (IStories.media) website first drew headlines in 2020 by looking into procurement of ventilation machines during the COVID pandemic. In the same year, they also published a report on one of the most sensitive topics in the country — apparent corruption linked to the family of Vladimir Putin. He was forced to leave Russia the following year.
In a conversation with DW in Hamburg, Anin expresses that his followers in Russia continue to show interest in understanding corruption at a higher level. However, he notes that overall, Russian society shows little concern for this issue and has unfortunately become apathetic towards it.
Russia's corruption and 'colossal misery'
Anin himself shows no sign of apathy. He moved to Russia as a teenager, studied journalism in Moscow, and in 2006 started working as a sports reporter with the Novaya Gazeta, a paper known for seeing several of its reporters killed under the Putin regime. In 2008, Anin was sent by Novaya Gazeta to cover the brief war between Russia and Georgia, when he joined the outlet's investigative unit.
He held a position that gave him the opportunity to work on significant stories, such as the tax fraud exposed by Sergei Magnitsky and the corruption related to the 2014 Winter Olympics. Additionally, he conducted investigations into individuals within the upper echelons of the Putin regime, including Sergey Roldugin, a close friend of Putin and a billionaire cellist, as well as Igor Sechin, the CEO of Rosneft. In 2016, Anin wrote an article revealing that Sechin's wife owned a yacht valued at $100 million (€94 million). Sechin filed a defamation lawsuit against the newspaper and emerged as the victor.
Anin acknowledges that comprehending the extent of corruption within the Russian elite is challenging for many individuals.
"I cannot reword"
This disconnect is "nothing to marvel at — even the war was only a concern for a few people until the mobilization started and they started detaining husbands and brothers, sending them to the front with no training, where they simply got killed," he added.
Russia's initiation of peace in Ukraine
The reporter suggests that putting an end to the Ukraine war is just the initial phase in bringing about change in Russian society. He believes that it would require many years of engaging with the people to bring about reforms in the country. This transformation would only occur after the passing of Putin and the group of individuals closely associated with him, known as the "collective Putin."
Anin asserts that breaking the apathy under the Putin regime is an insurmountable task. He emphasizes the importance of revealing the complete truth about the war to the public, enabling them to comprehend the horrors that occurred over the past three decades, which they silently witnessed. These atrocities were carried out with the people's unwavering support. Anin suggests that only by acknowledging these facts, Russia might have a chance to overcome apathy and embark on a new way of life.
In 2021, Anin was apprehended by Russian authorities, who conducted a search of his residence in Moscow and confiscated several of his possessions. The stated reason for this action was his potential role as a witness in a privacy infringement case. Anin's colleagues at Novaya Gazeta characterized it as a belated retaliation for his 2016 Sechin article. Both Anin and his media outlet, Important Stories, were designated as "foreign agents." Currently, Anin is continuing his investigative work outside of Russia, while Important Stories remains operational despite being officially deemed "undesirable" according to Russian law. This designation makes it illegal to share or engage with their content online.
I apologize, but we are deserving of it.
According to him, he can still connect with his audience in Russia, evident from the high number of YouTube views. In the event that all communication channels are severed, Anin claims it would not be the most significant tragedy among the current tragedies.
Anin states that our objective is to inform individuals about the true events, the actual nature of the government, and the real situation in Ukraine. We aim to expose the criminality of this war and shed light on how the Russian authorities disregard the lives of their own people by sending them to their deaths in large numbers.
"The fate of the individuals lies in their own hands. If the citizens of Russia are unwilling to embrace change or seek the truth, there is little we can do to influence them."
Anin states that he has never encountered any mistrust from his Ukrainian colleagues when it comes to the perception of Russians in relation to the war. However, he also mentions that he would not feel offended if he did.
"I cannot reword"
Revised by Ben Knight