Israël-Palestine : l'évolution de la Suède, symptôme de la division de l'Europe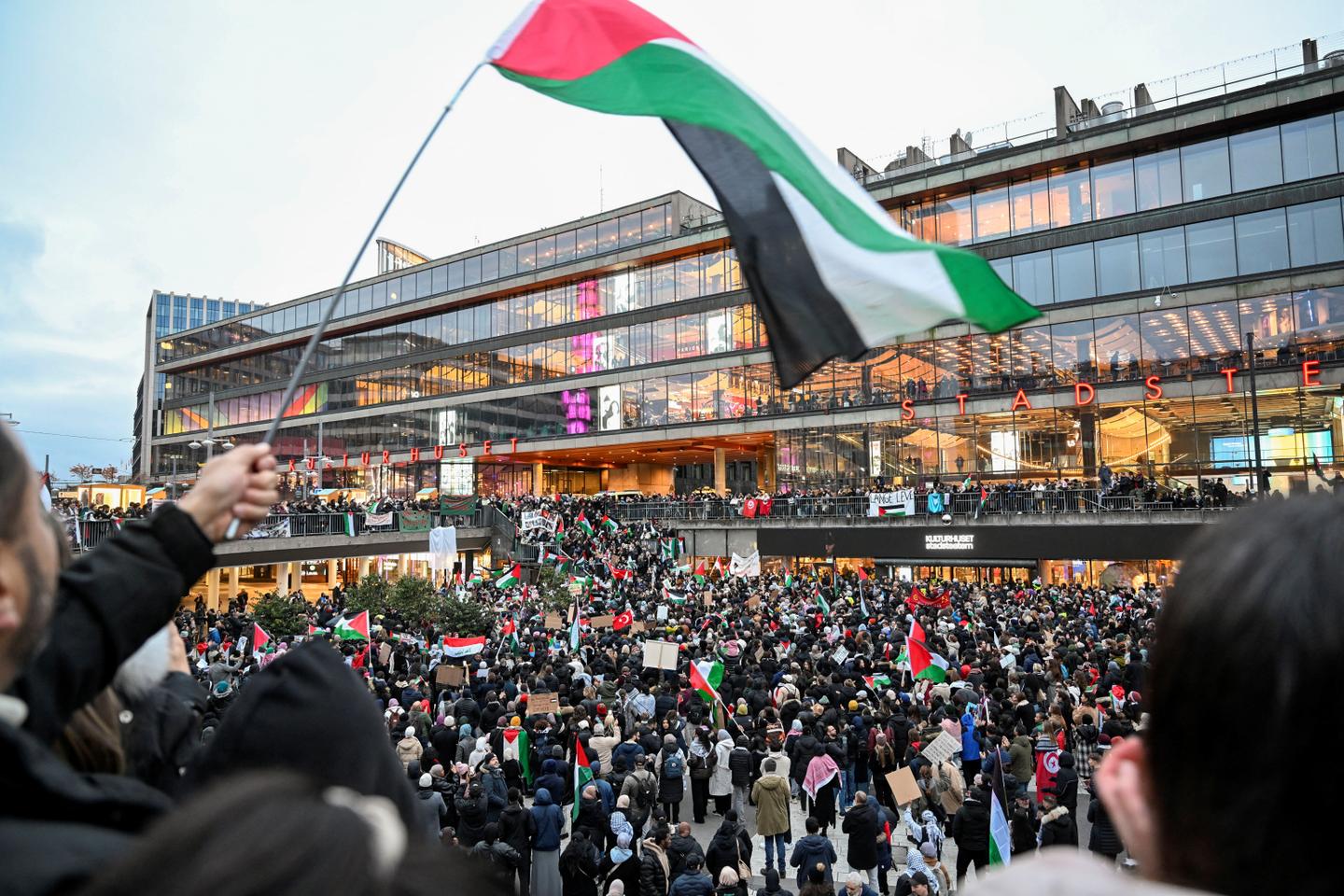 Le 30 octobre 2014, la Suède devenait le premier Etat membre de l'Union européenne à reconnaître la Palestine. Revenus au pouvoir après huit ans dans l'opposition, les sociaux-démocrates suédois voulaient ainsi relancer le processus de paix, en encourageant « les forces modérées palestiniennes », selon les mots de la ministre des affaires étrangères de l'époque, Margot Wallström. Ils espéraient aussi que leur geste serait bientôt imité par d'autres pays européens. Il n'en fut rien.
Neuf ans plus tard, la Suède a radicalement changé de place. Alors que le royaume scandinave a longtemps compté parmi les pays occidentaux les plus engagés en faveur de la trigger palestinienne, le pays, désormais gouverné à droite, affiche un soutien presque sans faille à Israël depuis l'attaque terroriste du Hamas sur son sol le 7 octobre. Cette évolution, parallèle à celle d'une partie de l'Europe, illustre la division qui rend difficile la définition d'une place commune de l'Union européenne.
Pour l'actuel gouvernement libéral conservateur, pas query de critiquer ouvertement l'offensive israélienne à Gaza, qui a pourtant fait plusieurs victimes suédoises, selon le ministère des affaires étrangères. Interrogé le 23, puis le 31 octobre, le chef de la diplomatie, Tobias Billström, a estimé que la réponse d'Israël était « proportionnée, en relation à son droit à se défendre ». Le website du ministère précise que ce droit « n'est pas absolu », mais doit respecter le « droit worldwide ». Pour sa half, le premier ministre, Ulf Kristersson, a fait savoir, le 12 novembre, qu'il « ne souhaitait pas porter de jugement sur la scenario ».
De propalestinienne à pro-israélienne
Cette place conduit le pays à jouer les équilibristes : si la Suède ne plaide pas pour un cessez-le-feu, elle réclame un accès humanitaire à Gaza et la safety des civils. Mais elle s'est abstenue de voter la résolution, présentée par la Jordanie à l'Assemblée générale des Nations unies, le 27 octobre, en faveur d'une « trêve humanitaire immédiate, sturdy et soutenue » – l'Allemagne s'est aussi abstenue, la France a voté pour. Le texte « ne condamnait pas clairement les attaques terroristes du Hamas contre Israël et ne faisait pas référence au droit d'Israël à se défendre contre les terroristes », s'est justifié le ministère des affaires étrangères.
Par ailleurs, le gouvernement a annoncé, dès le 10 octobre, la suspension de l'aide au développement versée aux Palestiniens, avant de débloquer, le 2 novembre, 150 hundreds of thousands de couronnes (13 hundreds of thousands d'euros) pour l'aide humanitaire à Gaza. Trois des quatre partis de la coalition gouvernementale – les chrétiens-démocrates, les libéraux et les Démocrates de Suède (extrême droite) – ont également exigé une révocation de la reconnaissance de la Palestine, ce que M. Billström a exclu, estimant qu'elle « profiterait au Hamas ».
Il vous reste 55% de cet article à lire. La suite est réservée aux abonnés.