Guerre en Ukraine, en direct : l'armée ukrainienne progresse autour de Bakhmout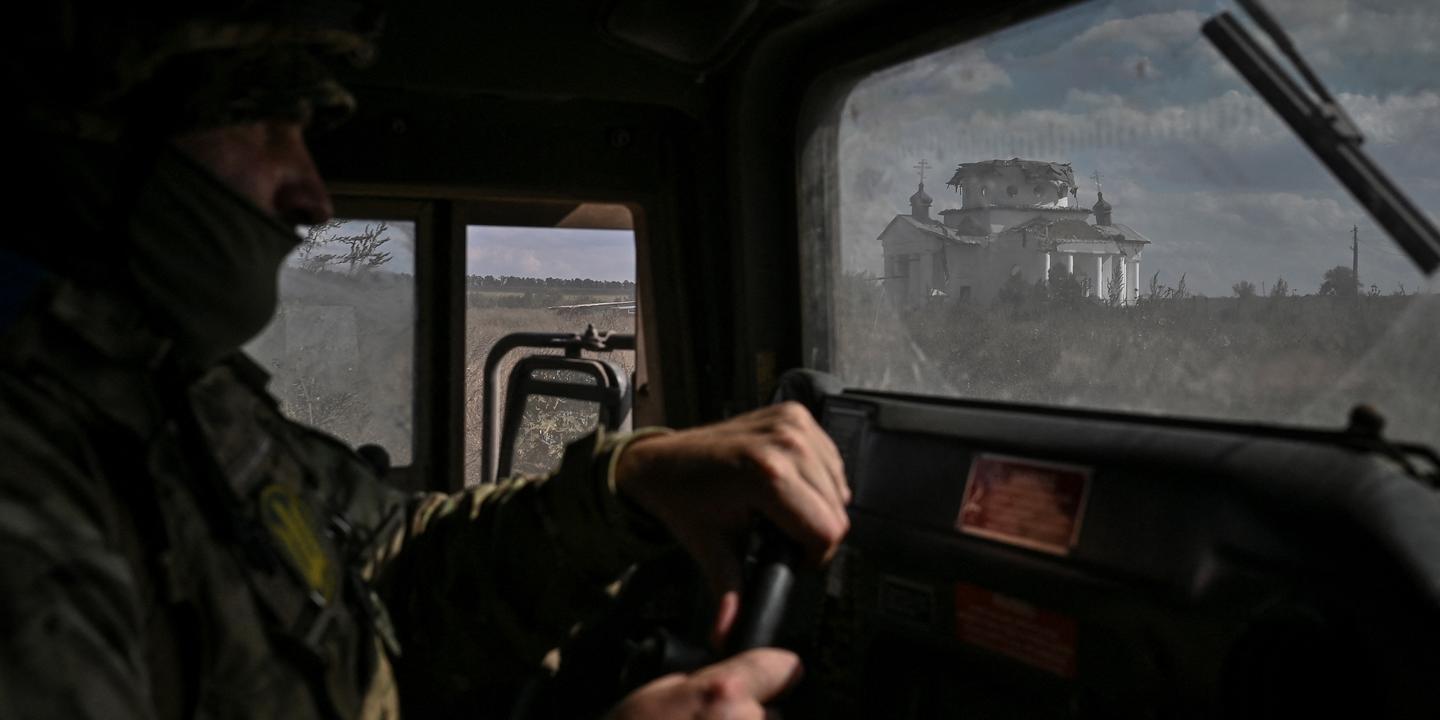 Image de couverture : During a reconnaissance mission near Bakhmout on September 7, 2023. STRINGER / REUTERS
L'Ukraine a annoncé samedi que deux cargos naviguaient vers ses ports, une première depuis la fin de l'accord céréalier en juillet qui permettait jusque-là d'exporter les denrées ukrainiennes malgré l'invasion russe. Les cargos Resilient-Africa et Aroyat « ont confirmé qu'ils étaient prêts à emprunter la route vers le port de Tchornomorsk pour charger près de 20 000 tonnes de blé à destination de l'Afrique et de l'Asie », a annoncé le ministre des infrastructures ukrainien, Oleksandr Kubrakov, sur Facebook.
Moscou affirme avoir abattu plusieurs drones ukrainiens près de Moscou et en Crimée. La défense aérienne russe a pu atteindre un drone ukrainien dans la région de Moscou et six autres qui se dirigeaient vers la péninsule de Crimée annexée, a annoncé dimanche le ministère de la défense russe.
"If President [Volodymyr] Zelensky and the Ukrainians stop fighting, their country will cease to exist," said the Secretary General of NATO. In an interview with the German media group Funke on Sunday, Jens Stoltenberg warned that we should prepare for a "prolonged war in Ukraine" and assured that "there is no doubt that sooner or later Ukraine will be in NATO."
Une nouvelle milice russe créée pour enrôler les membres du Groupe Wagner, selon le Centre national de la résistance du ministère de la défense ukrainien. Une nouvelle société militaire privée placée sous le contrôle direct du ministère de la défense russe a été créée pour recruter les mercenaires du Groupe Wagner, a rapporté samedi le Centre national de la résistance du ministère de la défense ukrainien.
Trois grands navires de débarquement russes ont été transférés de mer Noire en mer d'Azov, après les attaques qui ont endommagé cette semaine plusieurs bâtiments à Sébastopol, a annoncé le porte-parole de la marine ukrainienne, Dmytro Pletentchouk. Selon lui, le Minsk, autre navire de débarquement qui fait partie des bateaux touchés, ne pourra pas être réparé.
Le dirigeant nord-coréen, Kim Jong-un, et le ministre de la défense russe, Sergueï Choïgou, se sont engagés à renforcer leur coopération, selon l'agence de presse d'Etat TASS. Le dirigeant nord-coréen, en visite en Russie, a inspecté samedi des bombardiers stratégiques à capacité nucléaire, des missiles hypersoniques et des navires de guerre russes.
The Russian army stated on Saturday that it was not "dislodged" from the village of Andriivka in Ukraine, south of the devastated city of Bakhmut on the eastern front, contradicting a statement made the previous day by the Ukrainian military headquarters.
Cliquez sur ce lien pour accéder à notre diffusion en direct du samedi 16 septembre.
Read all of our articles, analyses, and reports on the war in Ukraine.
Reportage. Les stigmates d'Izioum, un an après sa libération
Les faits. Dans la mer Noire, Kiev tente de ménager un autre couloir de circulation des céréales
Video. Kim Jong-un and Vladimir Putin have met in Russia.
The facts. The meeting between Vladimir Putin and Kim Jong-un, marks the beginning of a strengthened and partly secretive cooperation.
Décryptage. Avec la rencontre de Vladimir Poutine et Kim Jong-un, Pyongyang veut montrer que sa capacité d'action s'étend au-delà de l'Asie du Nord-Est
Editorial. Kim-Poutine : un inquiétant sommet de parias
Décryptage. En Ukraine, dilemme autour de la tenue des élections en pleine guerre
Décryptage. Le compte à rebours de la contre-offensive ukrainienne a commencé
Chronique. Sylvie Kauffmann : « Au bout de dix-neuf mois, ne parlez pas de guerre propre ni de guerre du futur aux "héros de l'Ukraine" qui reviennent du front »
Critique. « Memorial face à l'oppression russe », monographie de « l'ennemie idéologique » de Vladimir Poutine
Cartes. Les cartes de la guerre en Ukraine, depuis le début de l'invasion russe, en février 2022