Guerre en Ukraine, en direct : la Russie et la Corée du Nord n'ont signé aucun accord, selon le Kremlin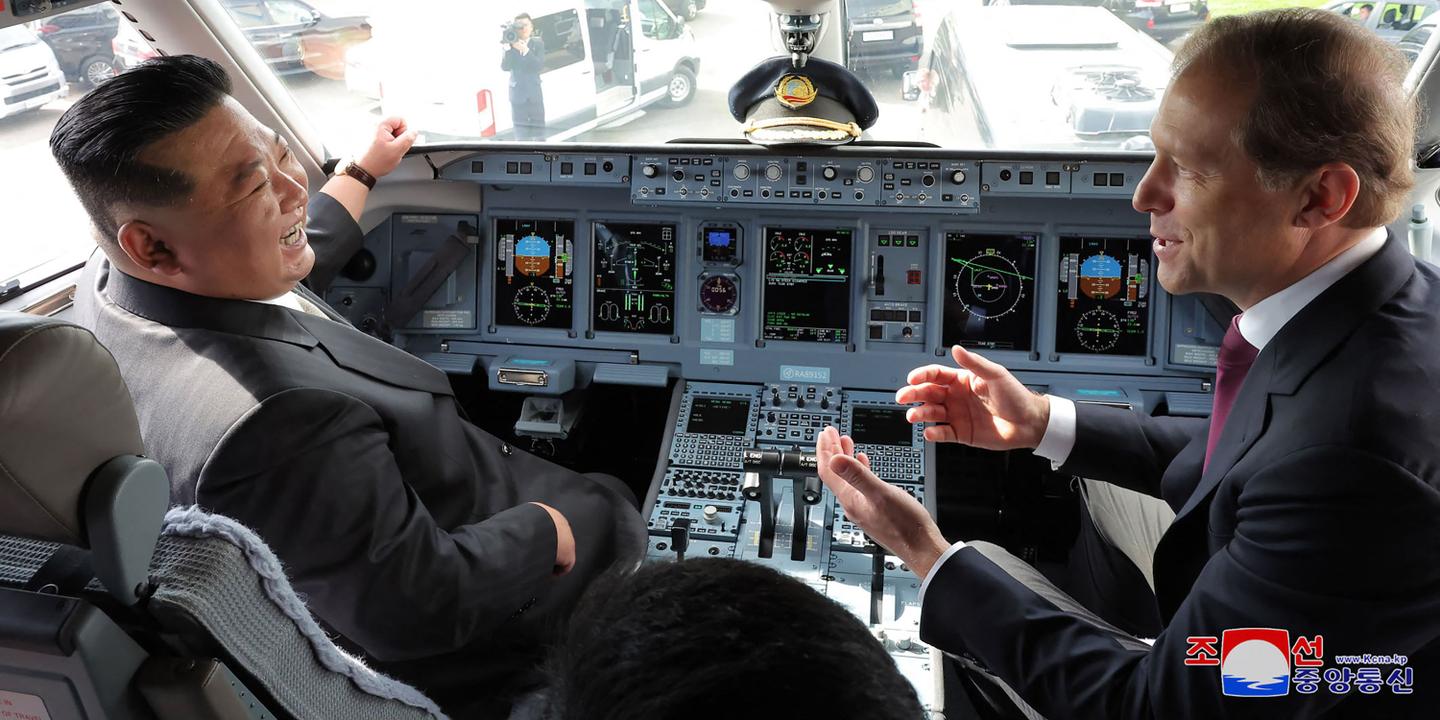 Image de couverture : Le dirigeant nord-coréen, Kim Jong-un, lors de sa visite dans une usine aéronautique de Komsomolsk-sur-l'Amour, le 15 septembre 2023. Photo publiée par l'agence de presse gouvernementale nord-coréenne KCNA. STR / AFP
Le président russe, Vladimir Poutine, et le dirigeant nord-coréen, Kim Jong-un, n'ont signé aucun accord lors de leur rencontre de mercredi, a déclaré le porte-parole du Kremlin, Dmitri Peskov, vendredi soir. Il a insisté sur le fait qu'une vente d'armes n'était pas le but de la visite du dirigeant nord-coréen.
Kim Jong-un, the leader of North Korea, arrived in Vladivostok, in the Russian Far East, on Saturday morning. He was welcomed by the Russian Defense Minister, Sergei Shoigu, according to the state news agency TASS.
The European Commission announced on Friday that it is lifting the ban imposed by five EU member states – Bulgaria, Hungary, Poland, Romania, Slovakia – on the import of Ukrainian cereals to protect their farmers. Brussels made this decision in exchange for a commitment from Kiev to control the influx of grains into neighboring countries.
In addition, Hungary has decided to unilaterally strengthen the ban on importing Ukrainian cereals. Shortly after, Poland and Slovakia also announced that they were extending the embargo. Romania, on the other hand, "regretted" Brussels' decision, stating that they are waiting for Kiev's action plan before implementing any possible measures. Contrary to its neighbors, Bulgaria had announced on Thursday that they were lifting the embargo.
Le Parlement de la Lettonie a approuvé vendredi le gouvernement centriste formé par la nouvelle première ministre, Evika Silina, qui a promis de renforcer les forces armées et de continuer à soutenir l'Ukraine contre l'agression russe.
Le président ukrainien, Volodymyr Zelensky, sera reçu jeudi 21 septembre à la Maison Blanche pour des discussions avec le président des Etats-Unis, Joe Biden, à propos du soutien à Kiev contre l'invasion russe, a confirmé vendredi un haut responsable américain.
The president of the Russian Olympic Committee, Stanislav Pozdniakov, has stated that Russia will not boycott the upcoming Olympic Games. He emphasized that every Russian athlete is free to decide whether they want to participate under a neutral flag or not.
According to Russian President Vladimir Putin, 300,000 men have signed a contract with the Russian armed forces in the past six to seven months, expressing their willingness to sacrifice their lives for their country. He made this statement during a meeting with his Belarusian counterpart, Alexander Lukashenko.
The Kremlin expressed satisfaction on Friday with the progress of the investigation into the plane crash that killed the head of the Wagner Group, Evgueni Prigojine, although no explanation has been provided more than three weeks after the accident. Ukraine and Western countries suspect Kremlin's involvement in seeking revenge, a theory that Moscow denies.
Cliquez sur ce lien pour accéder à notre diffusion en direct du vendredi 15 septembre.
Read all of our articles, analyses, and reports on the war in Ukraine.
Les faits. Dans la mer Noire, Kiev tente de ménager un autre couloir de circulation des céréales
Vidéo. Kim Jong-un et Vladimir Poutine se sont rencontrés en Russie
The facts. The meeting between Vladimir Putin and Kim Jong-un marks the beginning of a strengthened and partially secretive cooperation.
Décryptage. Avec la rencontre de Vladimir Poutine et Kim Jong-un, Pyongyang veut montrer que sa capacité d'action s'étend au-delà de l'Asie du Nord-Est
Editorial. Kim-Poutine : un inquiétant sommet de parias
Décryptage. En Ukraine, dilemme autour de la tenue des élections en pleine guerre
Décryptage. Le compte à rebours de la contre-offensive ukrainienne a commencé
Chronique. Sylvie Kauffmann : « Au bout de dix-neuf mois, ne parlez pas de guerre propre ni de guerre du futur aux "héros de l'Ukraine" qui reviennent du front »
Critique. « Memorial face à l'oppression russe », monographie de « l'ennemie idéologique » de Vladimir Poutine
Cartes. Les cartes de la guerre en Ukraine, depuis le début de l'invasion russe, en février 2022