Adam Schiff identifies one of the most revealing exchanges from Trump's recent interview.
Rep. Adam Schiff (D-Calif.) says Donald Trump spoke volumes when he declined to say whether he called any military or law enforcement authorities to quell the Jan. 6, 2021, attack as it was underway.
"I consider that exchange during the interview to be one of the most revealing moments. He refuses to disclose who he contacted, as he did not reach out to anyone to resolve this," Schiff informed CNN's Jim Acosta on Sunday.
"He remained seated for several hours, observing the assault on the Capitol. He was situated in the tranquil and protected environment of the White House dining room, witnessing the chaos and disorder that ensued," he further stated. "Individuals approached him, urging him to take action, to express his thoughts, but he declined their pleas. It is understandable why he avoids addressing the question."
Schiff was talking about Trump's interview with Kristen Welker, the anchor of "Meet the Press," which was broadcasted on Sunday.
In a specific and extreme conversation, Trump attempted to hold Rep. Nancy Pelosi (D-Calif.) responsible for the Capitol riot. He argued that Pelosi, who was the House speaker at the time, had control over security and could have stopped the violence if she had agreed to his proposal of deploying the National Guard days before.
This is false on many levels and has been comprehensively debunked. The House speaker is not in charge of Capitol security, for starters, and there's no evidence Trump ever issued such a directive.
After gaining access to the Capitol, Trump supporters actively searched for Pelosi, forcibly entered her offices, and left intimidating messages.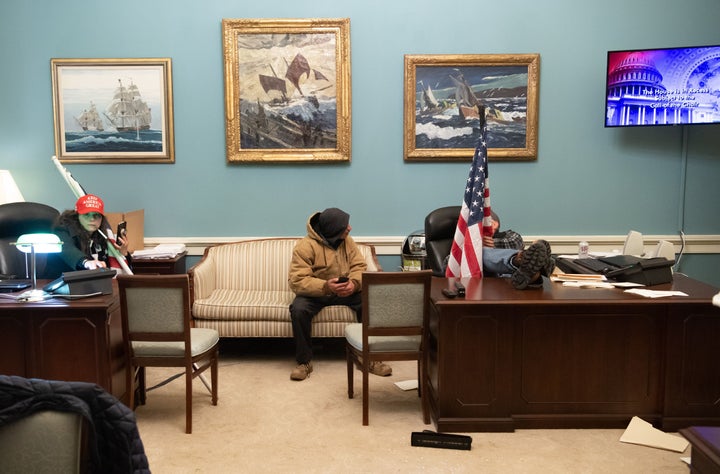 As Welker persistently questioned Trump, he asserted the Pelosi statement and was asked if he had contacted the military or law enforcement to control the violence during the Capitol attack.
Trump stated that he would not disclose any information.
Schiff commented that the blame on Pelosi was "typical" of the ex-president as well.
"He only reflects his own inactivity and lack of ethics onto others, but it fails to deceive anyone," he stated.
Pelosi echoed a similar sentiment in her own reply to Trump's remarks.
On Sunday, during an interview with MSNBC, she stated that he is aware of his responsibility for that situation and therefore shifts the blame onto others.
Please view the interview with Schiff below.